The intraoral scanner is impacting dentistry more than any other tool in the modern era. Serving as digital dentistry's ambassador to patients, a dental practice's most efficient instrument, and the unlock for all to utilize the accuracy, speed, and quality of cutting-edge technology, it is imperative that every dentist works with one of the best intraoral scanners.
Operating the first and only 100% digital dental lab, it is Dandy's duty to continually test the intraoral scanners on the market, ensuring the dentists who partner with us have the best in their hands. While our research is perpetual, as of publishing time we have examined over 45 digital dental scanners. Following are our findings and thoughts on offerings from some of the most popular (and certainly the best) scanner brands—3Shape, Dentsply Sirona, iTero, and Medit—with links to deeper model reviews.

Which intraoral scanner is best for your dental practice? We have a few favorites which we'll detail but ultimately it depends on how you wish to use digital dentistry, and, of course, budget. Speaking of determining factors, we have broken down our research into criteria including ergonomics, accuracy, speed, software interface, and cost. We think this criterion is the best way to find the all-around winner, but it might help to weigh these facets against your needs to see what suits you whether you are upgrading from your current scanner or newly adopting digital dentistry.
For those joining the digital revolution a quick 101 and then onto the 2023 intraoral scanner comparisons.
Dandy offers dental practices a free intraoral scanner.
What is an intraoral scanner?
First, what do we mean by intraoral scanner? After all, there are a few dental imaging products on the market today.
An intraoral scanner is a device—often shaped like a wand or large pen—that captures 3D digital dental impressions and uses the data to produce a highly detailed image of the patient's mouth. That image can be viewed on a computer screen or used to fabricate dental restorations. The scan is done in a fraction of the time compared to traditional physical impressions. And unlike early scanner models, today's intraoral scanners produce high-speed, high-precision results.
Dental patients' perception of intraoral scanners
In addition to the aforementioned benefits of intraoral scanners—accuracy, speed, efficiency, digital workflows—there are many others, chief among them may be the effect on patient experience, from comfortability vs PVS molds to the technological wow factor and the ability to show patients their issues chairside on the scanner's monitor.
We conducted a blind survey of hundreds of dental patients for the Dandy Dental Study: Patient Experience and asked those who have been scanned about their perspective. Not only were most emphatic about the procedure's positive experience, but it was also a defining factor in word-of-mouth marketing: We learned that practices who scan are 12% more likely to receive a patient referral than those who do not.
Anecdotally, Dr. Barry Bartusiak, citing metrics from a third-party service his practice utilizes, verified the number by telling us, "Our internal referrals went up 15% just because we got Dandy's [digital dentistry system with free intraoral scanner]. It has been an accelerator for growth. It has kept us on the forefront of the technological boom that is taking place across all industries."
Choosing the best intraoral scanner in 2023
To deliver the best patient care, dentists need the best digital dental technology on the market. Because of its ability to streamline restorative dentistry, a digital intraoral scanner is one of the most important investments you can make for your practice. Yet, with many options available, you might be asking yourself, "How do I choose an intraoral scanner?"
Our research and development team visited 100+ labs around the U.S. and analyzed about every intraoral scanner on the market. Based on our findings, we established the five main criteria every dentist should consider while choosing an intraoral scanner—ergonomics, accuracy, speed, software interface, and price—and there's one scanner that stands out.
Here are five criteria to strongly consider when choosing an intraoral scanner and assessing clinical viability:
1. Ease-of-use (ergonomics)
The best dental digital scanners are user-friendly. "How easy is it to pick the scanner up?" is a key question Kenn Butler, Head of R&D for Dandy, brings up in a webinar on this very topic. How does it feel in your hand? Does it fit comfortably in patients' mouths? Is it simple to use? These are some of the top questions to ask to determine ergonomics or ease of use.
2. Accuracy
The quality of your scan will determine the accuracy of the work you receive from the lab. The ideal scanner precisely captures micro-details to ensure the highest quality work, from clear aligners and night guards to crowns, bridges, and dentures.
3. Speed
As a dentist, we know that in addition to being an incredible clinician, you also have to be a logistics, management, and scheduling guru (among many more business disciplines). You know time is money, and efficiency is one of the biggest revenue levers one can pull. While digital dentistry enables faster impressions overall, there are some scanners that are twice as fast as others on the market. While, yes, this is like comparing sports cars, minutes a day add up to hours a month which all adds up to more patients seen and more revenue.
4. Software interface
Software capability can differ significantly from scanner to scanner. That matters because software powers the scanner, directly impacting performance. The ideal scanner will have no lag time between scanning and loading images on the screen. But perhaps most importantly, says Butler, "Does a scan require five sub menus? Or is it straightforward?"
5. Cost
High-quality intraoral scanners that were once expensive are now available at a lower price point. However, beware of additional costs associated with some intraoral scanners, like software subscriptions, training, auxiliary equipment, and fee-based customer support.
Subscribe to our newsletter!
Let us fill you in for a change. Subscribe to our newsletter and we'll send our best content to your inbox.
Thanks for your interest!
We send emails on Tuesdays. Keep an eye out for the next one!
With an eye on the above factors and more features available from the top scanner companies we present our list of pros and cons, comparisons, and a summation of what to consider when thinking about intraoral scanners from iTero, Primescan, 3Shape, and Medit.
Comparison of the best intraoral scanners in 2023
iTero Element intraoral scanners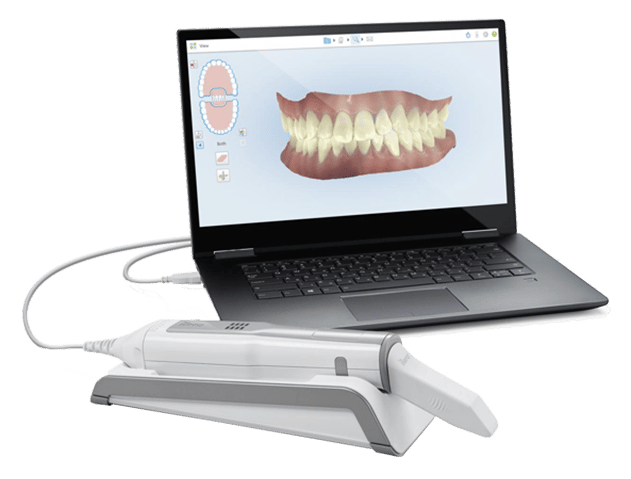 iTero is the first name in intraoral scanners. "When you think 'intraoral scan,' you're thinking the iTero Element," says Butler. The brand is owned by Align Technology and is purpose-built to be an Invisalign machine. Past the focus on clear aligners, iTero builds bulky scanners that are poor in edentulous areas. iTero software works with some supported labs or you can export STL files and send them to your digital lab (if they receive files in that manner).
iTero Element intraoral scanners pros
Software interface: Superb software-user interface and well-designed overall package
User friendly: Excellent, user-friendly technology
Ease-of-use: Very good ergonomics
Orthodontics: Great for orthodontic case presentation, works particularly well with the Invisalign system
iTero Element intraoral scanners cons
Price: The upfront price for their top scanner, the 5D Plus Series is ~$50-70K, but there are other costs that add up. For example, you have to use disposable tips that cost $4 each and must be purchased from Align; you cannot autoclave them.
Fee: Monthly software subscription fee
Image capture: Less effective at capturing full-arch intraoral scans for crowns and bridges; lots of interference from soft tissue. One of the lowest-performing models in edentulous scanning.
Size: Very large, unwieldy scanner wand
Speed: Overall very good but there is the occasional video lag
iTero Element final review
The iTero is the classic intraoral scanner company—it has a great software user interface, a user-friendly touch screen, and a slick overall package. It's great for orthodontic case presentations. If you want to stick with Invisalign, this is the scanner for you. If you want to explore other options to expand your service offerings beyond Invisalign products and pricing, then there are other brands to look into.

Read more about iTero's line of intraoral scanners including specifics on models like the Element 5D Plus, Element 2, and Element Flex.
iTero vs Dandy's digital dental scanner program with the 3Shape TRIOS 3
The 3Shape TRIOS 3 well outperforms iTero's offerings in edentulous scanning making it the ideal fit for most dentists. For those doing a host of ortho work, you will find Dandy's Clear Aligners more affordable for your patients than Invisalign. When looking at the practice's bottom line, iTero scanners cost tens of thousands of dollars plus recurring software fees whereas Dandy provides the scanner and software for free.
Primescan intraoral scanner by Dentsply Sirona
Dentsply Sirona followed their OmniCam with the Primescan. According to Butler, it is "the best intraoral scanner for fixed dentition scanning. It's incredibly fast, operating on a new hardware platform that Dentsply Sirona developed from the ground up—it looks like a slick package, a really nice piece of hardware to scan and design with."
Primescan intraoral scanner pros
Image capture: Very clear and fast scanning
Screen: Large window on the scanner itself allows for excellent visibility; you can see a lot of the dentition
Speed: Scanning speed and software are good—can do a full arch in less than 90 seconds
Compatibility: The best choice if you have an in-house CEREC milling machine, they do have interfaces that portal with specific labs (check the list to see if yours is compatible).
Primescan intraoral scanner cons
Price: Top dollar pricing*
Size: Very large, unwieldy scanner wand
Copy denture scanning: Performs sub-optimally with copy denture digital scanning workflows
Annual fee: No required annual fee; bumper-to-bumper optional support and labor coverage available through CEREC Club
Ease-of-use: The ergonomics are below average
*About:
$40,000 for the scanner
$70,000 for scanner and in-house milling
$100,000+ for scanner that includes CAD/CAM software, milling machine, and a furnace.
Primescan final review
"If you're willing to pay top dollar for a great fixed dentition intraoral scanner, this is the scanner for you," shares Butler, but our experience shows that it does not perform as well in all scenarios. The ergonomics are poor with factors like a large camera head and it overall being a bulky tool. When you add up the upfront costs and annual fees, this scanner is definitely not a budget-friendly option.
Read more about Dentsply Sirona's Primescan including detailed specs.
Primescan vs Dandy's digital dental scanner program with the 3Shape TRIOS 3
Off the bat, the cost of the Primescan and all that it needs to produce results is an extremely high barrier to entry versus Dandy providing a free 3Shape TRIOS 3 to dental partners. Long-term, despite the high price tag, the weightier decision is to decide if you are ready to run a dental lab. Overseeing a mini-in-house lab requires you to move more attention away from your patients, a lot of new knowledge and troubleshooting, and staffing—and because you aren't working in volume there is no economy of scale on materials. Also while same-day crowns are convenient for patients, they don't compare to the quality that comes from elite labs like Dandy.
Medit intraoral scanners
Medit is a newer player in the intraoral scanner space, produced by a start-up company based out of Korea, and is the most inexpensive option on this list. While some consider this a great entry-level scanner the fact is you'll want to adopt digital dentistry with the best and most intuitive tools, which is not part of Medit's package. So while "they've been able to make the trade-offs in places where it doesn't really matter clinically," according to Butler, the budget scanner underperforms in accuracy, software interface, and image capture.
Medit intraoral scanners pros
Price: Very competitively priced at from ~$12-22K with no annual subscription fees
Size: Lightweight
Ease-of-use: Very good ergonomics
Speed: Very good, but sometimes you have to go back and rescan areas
Medit intraoral scanners cons
Image capture: Requires more training and tech-savvy to capture high-quality scans
Accuracy: Average
Software interface: Less user-friendly. "It is not the most intuitive setup." It can be daunting to start using the Medit scanner; they have 12 different tools on the sidebar with no easy explanation," shares Butler.
Medit final review
The least expensive model of the group buys you "a nice, lightweight, usable scanner that is almost as fast as the other four scanners on our list here," concluded Kenn Butler. Medit, a newcomer to the space, has challenged the status quo by nixing the whole monthly subscription model—disrupting the game for the other, more established players. However, that low price comes with a cost—it's not as user-friendly, just average accurately, and requires more time to capture high-quality scans.
Read more about Medit's specific models including the i700, i600, and i500.
Medit vs Dandy's digital dental scanner program with the 3Shape TRIOS 3
Medit offers a great entry-level scanner but, simply, it is not as accurate as the 3Shape TRIOS 3 Dandy dental partners receive for free. In addition, training, support, and extra storage are not usually provided by Medit, but those services are completely free with Dandy.
3Shape TRIOS intraoral scanner
In terms of popularity, 3Shape TRIOS has historically been #2 in the dental scanner space's mindshare—just behind the iTero. It is made by a Danish company that began producing intraoral scanners a little over 10 years ago. The 3Shape TRIOS has quickly become a significant leader in the dental intraoral scanner space. We'll specifically look at TRIOS 3 below.
3Shape TRIOS intraoral scanner pros
Size: Well-designed wand that is large enough to capture data but small enough for optimal maneuverability
Image Capture: Excellent image capture, best-in-class for edentulous scanning
Speed: Full arch scan in less than 45 seconds. "When it comes to image capture and image speed, this scanner is second to none," says Butler.
Hardware: Great hardware platform, much easier to use in terms of scanning speed and general usability
Software interface: User-friendly and straightforward
Versatility: "Incredibly versatile scanner—can be used for dentures, standard, crown, bridge, multiple-unit implant cases, and more," shares Butler.
Ease-of-use: Very good ergonomics
Price: With Dandy (free + free laptop). From TRIOS (starting at ~$19,000 + cost of high CPU laptop)
3Shape TRIOS intraoral scanner cons
Fees: Ongoing annual and monthly subscription fees that can be rather steep, particularly for add-on features like Smile Preview (orthodontic simulator)
3Shape TRIOS final review
Versatility is unmatched with this scanner—it can be used for everything from dentures to crowns to bridges and more. "You can throw whatever you want on it," shares Butler. The well-designed scanning wand is large enough to capture ample data, but small enough that you can easily get around—Butler calls it the "Goldilocks" of scanners because it finds that perfect usable middle ground. The person scanning and patient rejoice at the shared comfort.
Read more details about the 3Shape TRIOS 3 model.
Conclusion: Best intraoral scanner 2023
So, what's the best intraoral scanner in 2023?

Our pick for the all-around winner is the 3Shape TRIOS 3.
While the other scanners listed are optimal for specific uses, the TRIOS can't be beaten for its combination of versatility, ease of use, and image capture quality. What really puts it over the top is that the TRIOS is best-in-market for edentulous scanning.
Are intraoral scanners worth it?
If you're looking to improve the patient experience at your dental practice, reduce dental practice overhead costs, and drive growth for your practice, then investing in an intraoral scanner is definitely worth it.
Better yet Dandy provides our top pick of the 3Shape TRIOS 3 to dental practices who partner with our fully-digital lab for no cost. The top scanner on the market + Dandy's proprietary and intuitive Chairside software is the ideal way to practice modern digital dentistry. To get your hands on the top intraoral scanner for free contact a Dandy representative today.


Photo credits:
iTero
Medit
Dentsply Sirona