The transition to digital dentistry is simpler and more accessible for dental practices today because intraoral scanners are better and easier to use than earlier models. Even then, some scanner models rise above the rest. A comparison of the most popular intraoral scanners reveals a few clear winners. Which dental scanner is the best one for your practice? We compared over 40 intraoral scanners to find out.
Here are the criteria we used to determine which intraoral scanner is the best. We think this criterion is the best way to find the all-around winner, but it might help to weigh these facets against your needs to see what suits you.
Dandy offers dental practices a free intraoral scanner.
Choosing the Best Intraoral Scanner in 2023
First, what do we mean by "intraoral scanner"? After all, there are a few dental imaging products on the market today.
An intraoral scanner is a device – often shaped like a wand or large pen – that captures 3D digital dental impressions and uses the data to produce a highly detailed image of the patient's mouth. That image can be viewed on a computer screen or used to fabricate dental restorations. The scan is done in a fraction of the time compared to traditional physical impressions. And unlike early scanner models, today's intraoral scanners produce high-speed, high-precision results.
Here are four criteria to consider when choosing an intraoral scanner and assessing clinical viability:
1. Ease-of-Use
The best dental digital scanners are user-friendly. "How easy is it to pick the scanner up?", is a key question Kenn Butler, Head of R&D for Dandy, brought up in a recent webinar on this very topic. How does it feel in your hand? Does it fit comfortably in patients' mouths? Is the software interface intuitive and aligned with your workflow? Is it simple to use? These are some of the top questions to ask to determine ease of use.
2. Accuracy
The quality of your scan will determine the accuracy of the work you receive from the lab. The ideal scanner precisely captures micro-details to ensure the highest quality work, from clear aligners and night guards to crowns, bridges, and dentures. Kenn Butler summed up the importance of software this way: "How good is it at knowing what to scan and what not to scan?"
3. Software Capability and Speed
Software capability can differ significantly from scanner to scanner. That matters because software powers the scanner, directly impacting performance. The ideal scanner will have no lag time between scanning and loading images on the screen. But perhaps most importantly, said Butler, "if it takes a computer software engineer to use the user interface and figure out how to use it, it's a no-go."
4. Cost
High-quality intraoral scanners that were once expensive are now available at a lower price point. However, beware of additional costs associated with some intraoral scanners, like software subscriptions, training, auxiliary equipment, and fee-based customer support.
Subscribe to our newsletter!
Let us fill you in for a change. Subscribe to our newsletter and we'll send our best content to your inbox.
Thanks for your interest!
We send emails on Tuesdays. Keep an eye out for the next one!
Comparison of the Best Intraoral Scanners in 2023
Dandy conducted a robust comparison of the digital dental scanners available today by testing dozens of models. Our team identified four intraoral scanners that are clinically viable: iTero Element, CEREC Primescan, 3Shape Trios, and scanners from Medit.
We compiled a list of the pros and cons for each scanner and made a final conclusion about each one.
iTero Element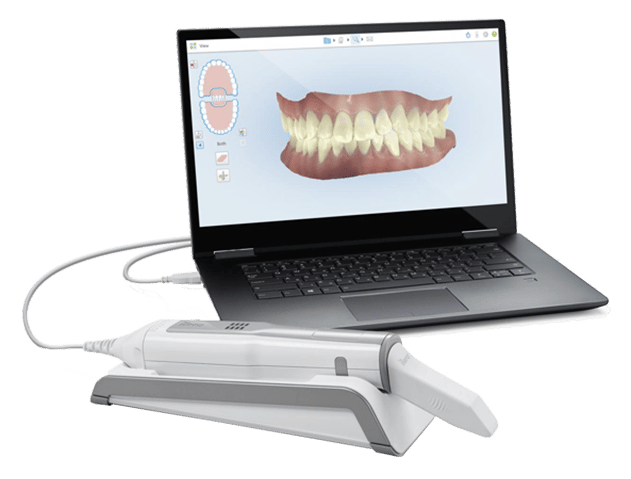 iTero is the classic intraoral scanner. "When you think 'intraoral scan', you're thinking the iTero Element," said Butler. iTero is owned by Align and is purpose-built to be an Invisalign machine.
Pros
Software Interface: Superb software-user interface and well-designed overall package
User Friendly: Excellent, user-friendly technology
Orthodontics: Great for orthodontic case presentation, works particularly well with the Invisalign system
Cons
Price: The upfront price for the scanner is $20-$30k, but there are other costs that add up. For example, you have to use disposable tips that cost $4 each and must be purchased from Align; you cannot autoclave them.
Fee: Monthly software subscription fee
Image Capture: Less effective at capturing full-arch intraoral scans for crowns and bridges; lots of interference from soft tissue
Size: Very large, unwieldy scanner wand
Speed: Occasional video lag
iTero Element Final Review
The iTero is the classic intraoral scanner—it has a great software user interface, user-friendly touch screen, and is a slick overall package. It's great for orthodontic case presentations. If you want to stick with Invisalign, this is the scanner for you. If you want to explore other options to expand your service offerings beyond Invisalign products and pricing, then there are other great options.
Primescan
Primescan is Dentsply Sirona's follow-up to the OmniCam. According to Kenn Butler, it is "the best intraoral scanner for fixed dentition scanning. It's Incredibly fast, operating on a new hardware platform that Dentsply Sirona developed from the ground up—it looks like a slick package, a really nice piece of hardware to scan and design with."
Pros
Image capture: Very clear and fast scanning
Screen: Large window on the scanner itself allows for excellent visibility; you can see a lot of the dentition
Speed: Scanning speed and software are great—can do a full arch in less than 90 seconds
Compatibility: Best choice if you have an in-house CEREC milling machine
Cons
Price: Top dollar pricing* with no "stand-alone" option (unlike the other scanners on the market)—you must buy the entire unit: scanner, computer, and cart. Butler's take: "If you want to get the Primescan, you have to get the whole kit and caboodle."
Size: Very large, unwieldy scanner wand
Copy denture scanning: Performs sub-optimally with copy denture digital scanning workflows
Annual Fee: No required annual fee; bumper-to-bumper optional support and labor coverage available through CEREC club
*Around $30,000 for the hardware to scan and send to the lab. To connect to a CEREC mill, CEREC software can be purchased for $35,000
Primescan Final Review
The most expensive option on our list is not the most versatile. "If you're willing to pay top dollar for a great fixed dentition intraoral scanner, this is the scanner for you," shared Kenn Butler, but our experience shows that it does not perform as well in other scenarios. When you add up the upfront costs and annual fees, this scanner is definitely not a budget-friendly option.
Medit
Medit is a newer player in the intraoral scanner space, produced by a start-up company based out of Korea, and is the cheapest option on this list. They have been "really disruptive in the space—they were one of the few intraoral scanner companies that came out with a high-performing scanner and had no concept of annual subscription fees," shared Butler. "They've been able to make the trade-offs in places where it doesn't really matter clinically, keeping the things that matter."
Pros
Price: Very competitively priced at $20,000 with no annual subscription fees
Size: Lightweight
Speed: Full arch scan in less than 90 seconds.
Cons
Image Capture: Requires more training and tech-savvy to capture high-quality scans.
Software Interface: Less user-friendly. Butler described the software user interface as functioning more like "an Android phone, compared to a Primescan, Itero, or a 3Shape, which is more like an iPhone-like experience."
Scanner design: It is not the most intuitive setup."It can be daunting to start using the Medit scanner; they have 12 different tools on the sidebar with no easy explanation," shared Butler.
Medit Final Review
The least expensive model of the group buys you "a nice, lightweight, usable scanner that is almost as fast as the other four scanners on our list here," concluded Kenn Butler. Medit, a newcomer to the space, has challenged the status quo by nixing the whole monthly subscription model—disrupting the game for the other, more established players. However, that low price comes with a cost – it's not as user-friendly and requires more time to capture high-quality scans.
3Shape TRIOS
3Shape TRIOS has historically been #2 in the dental scanner space—just behind the iTero. It is made by a Danish company that began producing intraoral scanners ten years ago. The 3Shape TRIOS has fast become a significant contender in the dental intraoral scanner space.
Pros
Size: Well-designed wand that is large enough to capture data but small enough for optimal maneuverability.
Image Capture: Excellent image capture, best-in-class for edentulous scanning.
Speed: Full arch scan in less than 90 seconds. "When it comes to image capture and image speed, this scanner is second to none," says Butler.
Hardware: Great hardware platform, much easier to use in terms of scanning speed and general usability
Software Interface: User-friendly and straightforward, though not as simple as the iTero.
Versatility: "Incredibly versatile scanner—can be used for dentures, standard, crown, bridge, multiple-unit implant cases, and more," shared Butler.
Cons
Fees: Ongoing annual and monthly subscription fees that can be rather steep, particularly for add-on features like Smile Preview (orthodontic simulator)
3Shape TRIOS Final Review
Versatility is unmatched with this scanner—it can be used for everything from dentures to crowns to bridges and more. "You can throw whatever you want on it," shared Kenn Butler. The well-designed scanning wand is large enough to capture ample data, but small enough that you can easily get around—Butler calls it the "Goldilocks" of scanners because it finds "that perfect usable middle ground."
So, what's the best intraoral scanner in 2023? Our pick for the all-around winner is the 3Shape Trios. While the other scanners listed are optimal for specific uses, the Trios can't be beat for its combination of versatility, price, and image capture quality. That's why it's the scanner we provide for free to dental practices who partner with Dandy's fully digital dental lab.