Dandy Clear Aligner Lab
All-in-one clear aligners built for general dentists. 
Leverage our team of orthodontists to offer your patients clear aligners.
Thank you for your interest!
Before your meeting, feel free to check out our lab solution page to learn more about working with Dandy.
Explore Lab Solutions
Free clear aligner training
All practices receive 1:1 training on workflows, case selection, pricing and even how to manage insurance for you and your entire team.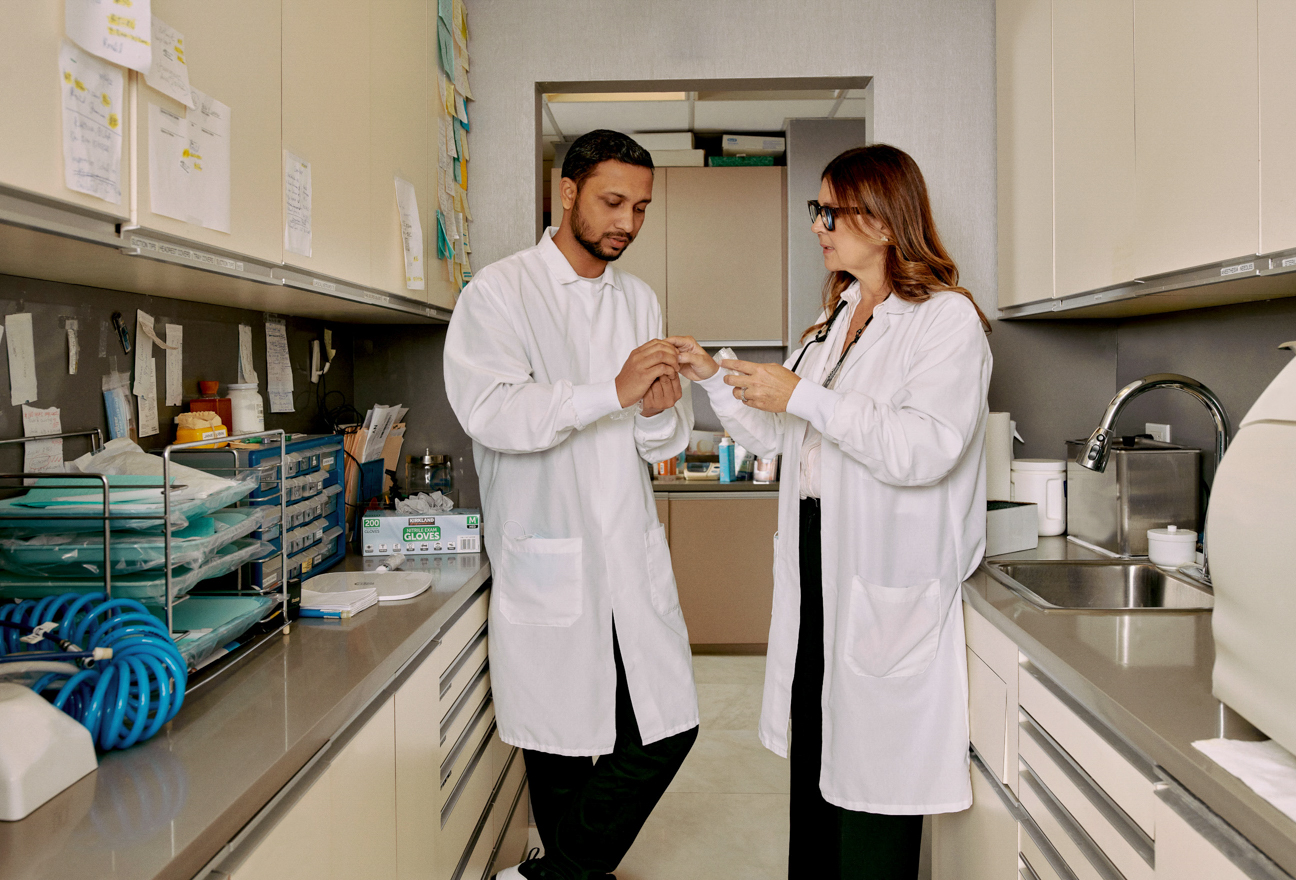 Grow your practice
Take advantage of the fastest-growing segment in the dental industry. With Dandy, you get everything you need, including orthodontic expertise and support, patient marketing materials and more.
Treatment plans to fit every patient
Dandy offers three pricing plans to cover all patient clear aligner cases: Dandy On-Demand, Dandy 20 and Dandy Max. We can help you manage the simplest to most complex patient cases.
One clear aligner case per week could add $200k annually
For dentists looking to profitably grow their practice, Dandy makes it easy to provide a complete clear aligner solution. Dandy Aligners are built specifically for general dentists and provide everything you need to make clear aligners successful in your practice. Dandy offers free clear aligner training, orthodontic support, and treatment planning to help you to deliver outstanding clinical outcomes that truly make patients smile.
Dandy Clear Aligners Resources and Information:
Need help?
Frequently asked questions
How long should Dandy Aligners be worn for?
Patients should wear their aligners 20-22 hours per day. Dandy clear aligners should be taken out only for brushing, cleaning, eating, and drinking anything except for cool water.
For how many weeks should a single set of Dandy Clear Aligners be worn for?
We recommend you start with a 14-day wear cycle. For healthy, young, compliant patients, you can reduce wear cycles to 10 or even 7 days. In other situations, wear cycles may be increased.
Does Dandy provide a gradual simulation view of aligners for aligned cases?
Yes, we provide a 3D treatment plan visualization in the Dandy portal once the design is complete. Doctors can request revisions to the provided treatment plan if desired.
Does Dandy incorporate attachments and/or IPR?
Yes. Most plans will include attachments for movement predictability, but IPR will be used sparingly. You can give us any specific instructions for attachments and IPR during case submission.
Does Dandy charge for clear aligner treatment plans?
No. Case submission is free for all plans. Doctors will get invoiced only at the point of approval for manufacturing.
Clear aligners are orthodontic devices made of clear plastic that are placed over a patient's teeth to guide them into place sequentially by applying gentle and consistent force.
How far do the Dandy clear aligners extend on the gingiva?
Dandy clear aligners are trimmed right at the gum line. We cannot trim it below the line, mainly due to the fact that if we trim below the line then we lose coverage and the teeth won't shift according to plan. You can use scissors and a polishing wheel to adjust the trim lines manually.
Does Dandy have marketing materials our dental practice can use to attract and educate patients?
Yes we do! Contact our team today to become a Dandy dentist and learn more.
Can a doctor that is not an orthodontist bill insurance for clear aligners?
Yes! All dentists are able to bill under the ortho benefit. One important item to note is that ortho benefits usually have a separate lifetime max and deductible.
What types of orthodontic cases are typically treated with clear aligners?
Clear aligners are involved in the treatment of crowded teeth, overbites, crossbites/underbites, diastemas (gaps between teeth), and open bites.
Learn more
Your clear aligner lab
Dandy aligners can be offered by general dentists. Learn more about expanding your practice's offerings with Dandy today!
Thank you for your interest!
Before your meeting, feel free to check out our lab solution page to learn more about working with Dandy.
View Dandy clear aligner turnaround times
Looking for information on treatment plans, retainers, and turnaround times? Download our product guide for more information on our clear aligner offering.