If you haven't heard the news, we are thrilled to announce we are opening our new state of the art digital dental lab, Dandy Utah!
Our lab won't accept a physical impression. We are all-in on digital. This is the future we believe in.
Inside our new lab, our technicians and clinical support teams are harnessing the latest technology and processes to increase the quality and consistency of our core products. Dandy's innovations, like 2-Appointment-Dentures, Design Previews, and Live Scan Review, have transformed how dentists approach scanning, ordering, and lab communication.
Now, we're taking it to the next level with a fully digital dental lab, tailored specifically for the Dandy workflow. This ensures even greater levels of accuracy and consistency. Let us take you behind the scenes into how we are elevating the lab experience for dentists across the country. 
A lab Infused with the latest technology
Dentists around the world are embracing scanning technology in their case workflows. But the truth is, not all labs are using the same level of technology to take that scan and produce an accurate product. At our Utah lab, we are delivering the future of dental manufacturing.
3D printing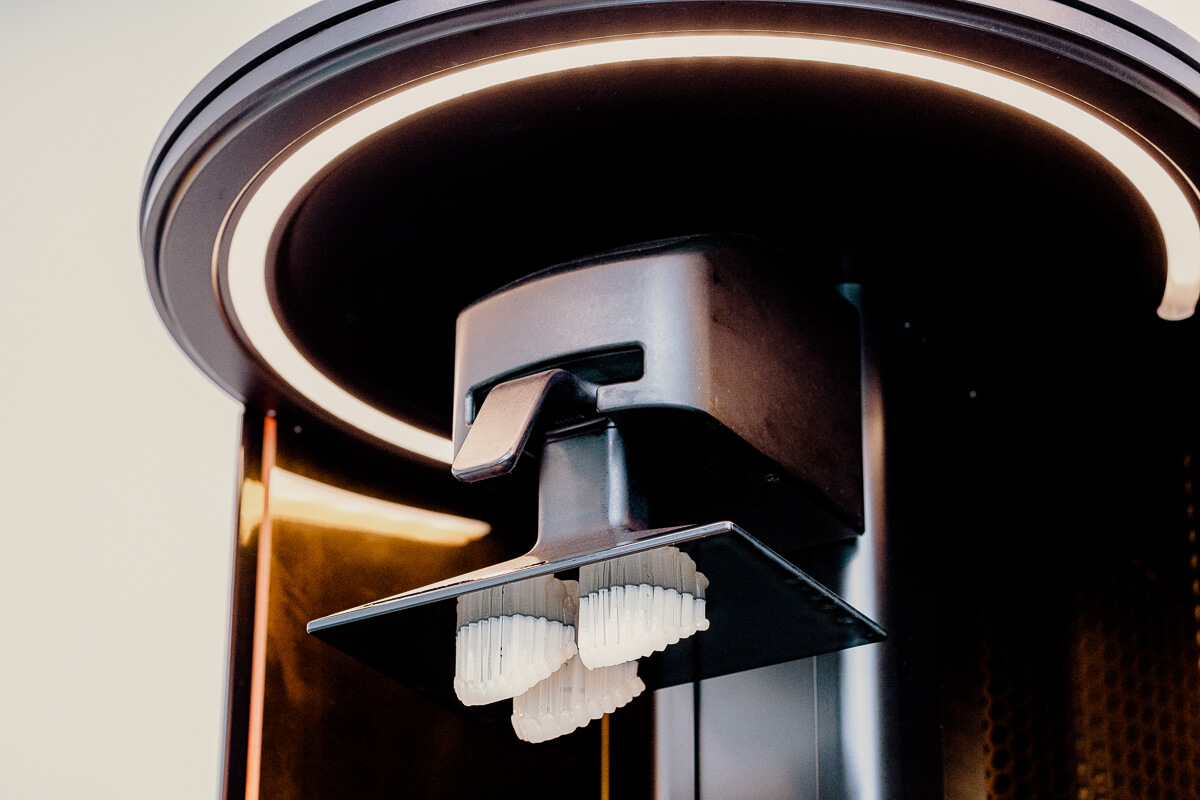 Dandy Utah is home to a myriad of the world's leading Carbon 3D M3 printers. We use them to produce models, dentures, night guards and more. Our 3D printers are so accurate that if you printed the same patient's night guard, on 20 different printers, they would be identical down to the 10s of a micron (µm). To put this in perspective, that's finer than the width of a human hair, which averages around 50 to 70 microns (µm), showcasing the remarkable intricacy achievable in 3D printed products, like night guards and dentures.
One product we love to 3D print is our Signature Dentures, produced with Dentsply's industry leading Lucitone Digital Print high-impact resins. Digital dentures have so many advantages over traditional dentures. You can produce a duplicate for a patient with a click of a button so they don't have to wait long or go through long and tiresome appointments to take a new impression. They fit like a glove due to their digital design and manufacturing process. Furthermore, they are so efficient to produce we can offer lightning speed turnaround times!
Zirconia and custom abutment milling
Once your patient's digital design is complete, the mill takes over when it comes to zirconia and custom abutment production. The mill translates the virtual design into a physical restoration by precisely milling a zirconia prosthetic within 10s of microns of the virtual design. The digital milling process is automated, ensuring accuracy and consistency.
Our 5-axis milling machines are housed in a state of the art climate-controlled setting. Each machine is crafted from heavy-duty industrial materials and weighs in at over 1,000 pounds.
Our expert teams oversee and fine-tune these machines on a weekly basis. We use statistical-process-control (SPC) to ensure that we consistently produce dental restorations with the highest level of accuracy. Think of SPC as a way to monitor and fine-tune the machine's performance to achieve the best possible results. This level of care translates to heightened consistency and greater predictability for you and your patients.
Smart furnaces with IoT connectivity for enhanced crown quality
Once zirconia has been milled, it is put through a firing process that transforms the material into its durable and life-like state. Consistent heat temperatures is the name of the game when it comes to successful zirconia outcomes. Dekema furnaces are the best in the industry at repeatable, accurate, temperatures at over 1500 ºC.
We've invested in a fleet of these cutting-edge Dekema sintering furnaces. These fully digital, German-engineered machines play a crucial role in creating more consistent crown, bridge, and implant crowns.
Did you know?
Sintering furnaces' temperature and cycle times have a direct impact on the final shade and translucency of zirconia crowns. If temperatures are too high, too low, or not stable you will be left with end-results that do not meet your prescription. Each of these machines is internet-connected and actively monitored by our teams via digital dashboards. This level of control ensures we are producing the most consistent results possible. We leave nothing up to chance. 
Bridging the gap between dentists and technicians, with technology
At Dandy's Utah lab, we are delivering a new era of lab communication. Each lab workstation is equipped with digital tablets connected to the Dandy Portal that bridge the gap between dentists and technicians. This provides our technicians real-time access to critical information regarding your case.
Your 3D scans, intraoral and extraoral photos, preferences, chats, and notes are elegantly displayed in front of our technicians as they work on your case. Dandy's digital prescription and Portal transform what dentists are able to communicate to their lab. This ensures that every restoration aligns perfectly with the dentist's vision, reducing the need for refabrication and enhancing overall satisfaction.
Modern manufacturing methods for increased quality control
We've taken an engineering approach that utilizes lean manufacturing principles.
Lean manufacturing is like applying the best practices from a dental clinic to a production setting. Just as you aim to provide top-notch care efficiently in your practice, lean manufacturing focuses on making things efficiently in a lab or production facility.
Imagine if every step in creating a dental restoration or prosthesis was carefully thought out to use only what's needed, reducing any unnecessary movements or materials. This is how we approach manufacturing at Dandy Utah—it minimizes waste and optimizes processes.
Rigorous data analysis
Our equipment and processes are fully monitored and analyzed for their accuracy and quality output. This means better-fitting restorations and improved patient outcomes.
We track your feedback and case success via the Dandy Portal and review this data with our teams in the lab. Our lab has the ability to analyze quality data for every practice, product line, and case.
This helps us to identify areas where we can improve, and focus on increasing quality for all of our practices. If you can't measure it, you can't manage it. In Utah, we adhere to stringent measurement standards in all our operations.
Continuous improvement
Our goal is to provide you with a level of service that wins your business for years to come. A huge piece of making this possible is what we call continuous improvement. Continuous improvement is the fruit that comes from a culture of data analysis.
It's a mindset that focuses on making small, incremental changes to our processes, techniques, and procedures in order to achieve higher levels of excellence for your patients.
This means that quality checks are built into our production process at every stage, feedback is actioned upon, and we measure progress constantly. This ensures that each product meets stringent quality standards before it ever leaves the facility.
Building the Lab of the Future
When you peek under the hood of Dandy Utah, you'll find an engine built to power your practice in the 21st century. Dandy has the unique opportunity to focus on perfecting digital workflows for today's and tomorrow's dentists. By keeping this as our primary focus, we can offer reliable, consistent quality products over the long term. At the heart of our new lab, is a desire to give you the greatest lab experience possible. By utilizing technology in new and profound ways, we enhance the artistry and attention to detail demonstrated by our world-class technicians.
Thank you to all of our partner practices. Without you none of this is possible.
We are hard at work on new innovations that will continue to provide you with higher quality outcomes for you and your patients. This is just the beginning.