If you've ever taken a pottery class, you might already be familiar with the terms porcelain and ceramic. Yet, when we use these terms in regard to denture teeth, there's often some confusion among patients. How do porcelain vs ceramic dentures (specifically denture teeth) differ? And which option is best to replace missing teeth?
Rather than being a completely different material, porcelain is simply a specific type of ceramic.
That said, most people who distinguish between ceramic and porcelain in a dental context are referring to porcelain-fused-to-metal (PFM). PFM, a material that's used in dental crown work, does differ from pure ceramic—but only slightly. 
To make the right choice for your patients' dental health, it can help to learn more about the similarities and differences between porcelain and ceramic denture teeth. Additionally, one of the most exciting changes currently taking place is the emergence of digital denture workflows to streamline the denture process. Once you know the factors to consider, you'll be ready to make the choice that leaves everyone smiling.
How Are Ceramics and Porcelain Used in Dentistry?
Dentists use ceramic materials for a range of different procedures, including the production of full and partial denture sets. Most ceramics are made from inorganic materials, like clay, water, and other earthen elements, but porcelain in particular is valued for its fine texture and slightly transparent appearance. These qualities have made porcelain teeth a sought-after option for lifelike dentures.
In addition to dentures, restorative dentistry also uses ceramic porcelain for: 
Ceramic crowns – Ceramic is the most frequently used crown material to make dental crowns. These crowns may be either full ceramic or porcelain-fused-to-metal (PFM). PFM crowns feature a porcelain exterior with a small metal thimble in the center that covers the natural tooth.
Dental Veneers – Porcelain and ceramic are also used to make veneers, which are thin, tooth-colored layers or shells that cover the front of anterior teeth. Not to be confused with composite veneers, which are typically made with resin.
Dental bridges – Dental bridges replace missing teeth and are usually made from either ceramic or metal. However, the cosmetic elements of bridges are generally made from porcelain.
Factors to Consider with Ceramic or Porcelain Denture Teeth
For most of the 20th century, dentures were made almost exclusively of porcelain. When they were first developed, porcelain implants were the only way to achieve an authentic-looking smile without your real teeth. The only other options were the gold or silver variety, which didn't lend themselves very well to a realistic grin.
Porcelain denture teeth changed everything. Whether you needed a set of full dentures or a single tooth, you could find a porcelain option that bore a striking resemblance to the real thing.
Explore Dandy Digital Dentures
Dandy allows dentists the ability to offer their patients dentures in as little as two appointments. Learn more!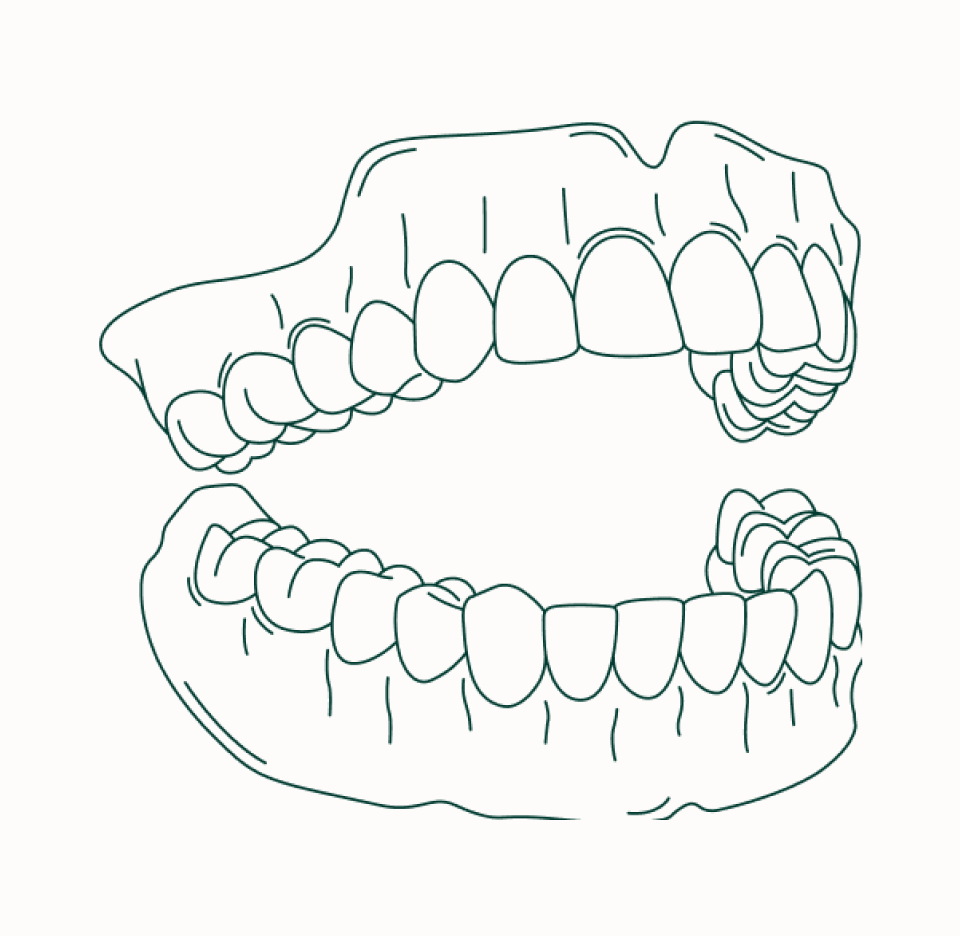 Benefits of Ceramic Dentures
Although dental progress led to dentures made from other materials, like nylon, resin, and acrylic, porcelain remained the gold standard in denture making for decades.
In years past, dentists and patients have preferred porcelain for its:
Biocompatibility – With ceramic or porcelain tooth restoration, patients don't have to worry about welcoming foreign materials into their mouths only to have them wreak havoc in the form of allergy, infection, or disease. Fully biocompatible, ceramics are a safe and healthy way to restore teeth.
Durability and longevity – Ceramics like porcelain are hard, sturdy materials that can withstand the pressures of chewing, brushing, and tooth-on-tooth contact. Thanks to their durability, porcelain denture teeth tend to outlast their competitors.
Aesthetic appeal – When it comes to dental restorations that have a lifelike, natural look, porcelain ceramics are usually the way to go. Porcelain is a slightly translucent material that reflects light instead of absorbing it, which helps give it the appearance of a real tooth.
Temperature mitigation – For people who suffer oral temperature sensitivity, ceramic dentures can help mitigate the symptoms. This is because ceramic is highly resistant to changes in temperature.
Drawbacks of Ceramic and Porcelain Dentures
Today, however, the popularity surrounding porcelain denture teeth has waned considerably. There are two reasons for this. This first is the health risks that have come to be associated with porcelain denture teeth.
Although they can make for an attractive set of teeth, porcelain can cause damage to:
The jawbone – Porcelain is known to displace pressure during chewing from the teeth to the jawbone. Over time, this can increase bone loss.
Neighboring teeth – The durability of porcelain is a double-edged sword when it comes to partial dentures. Because porcelain is so hard, it can damage other teeth that it comes into contact with during chewing or gnashing.
The bonding site – Bonding porcelain can be an issue, as the base of the dentures are still likely to be made of acrylic, which prevents chemical bonding. Non-chemical bonding methods can leave teeth weak at the base.
The Rise of Acrylic Denture Teeth
The second reason that porcelain denture teeth aren't as popular as they once were is the rise of acrylic dentures and the fine-tuning of technologies for constructing them. Nowadays, acrylic can achieve the same cosmetic authenticity as porcelain without the potential for jaw strain, bone loss, and tooth destruction.
That said, acrylic denture teeth are not without their own drawbacks. Acrylic is a plastic material that's a lot softer than porcelain and far less durable. That means acrylic dentures are likely to wear down more quickly than a porcelain pair—although they're less likely than porcelain to crack or fracture.
Additionally, because they lack the hard, smooth surfaces of porcelain, acrylic denture teeth need to be cleaned thoroughly and regularly to prevent bacterial growth.
Fortunately, even better options are on the rise—such as zirconia, another type of ceramic that shows impressive durability without the drawbacks of porcelain.
As the world of dentures shifts from porcelain to acrylic and even zirconia dental crowns, the methods dentists use to help their patients find the right fit are also evolving. Seeking similar answers to zirconia crowns disadvantages and advantages? Our Learning Center will help you make the right decision for patients as you incorporate digital dentistry into zirconia crown preps and denture scans.
At Dandy, we stand at the vanguard of the digital dentistry movement. Our first-of-its-kind platform is modernizing the dental lab process from start to finish. When you partner with Dandy to go digital with your dental practice, you unlock a range of premium benefits that can boost your business and please your patients.
Plus, we give you everything you need to start, including a free intraoral scanner for making digital dental impressions in half the time.
At Dandy, we're helping dentists everywhere level up. Find out how Dandy can help you today.
Sources:
Cleveland Clinic. Dental Crowns. https://my.clevelandclinic.org/health/treatments/10923-dental-crowns
Medicine Net. What Is Ceramic in Dentistry? https://www.medicinenet.com/what_is_ceramic_in_dentistry/article.htm
Toronto Star. What Happened to Porcelain Denture Teeth? https://www.thestar.com/sponsored-sections/affordable-dentures/what-happened-to-porcelain-denture-teeth/article_27fe5d4f-5175-55a3-af85-112d48b52eb1.html
Eurodenture. Best Denture Making Materials: Porcelain vs Acrylic. https://eurodenture.com/blog/porcelain-vs-acrylic-best-material-dentures/Journal of Materials Research and Technology. Zirconia in dental prosthetics: A literature review. https://www.sciencedirect.com/science/article/pii/S2238785419300419
Want to learn how you can offer two appointment dentures?
Subscribe to our newsletter and we'll send our best digital dentistry content right to your inbox.
Thanks for your interest!
We send emails on Tuesdays. Keep an eye out for the next one!